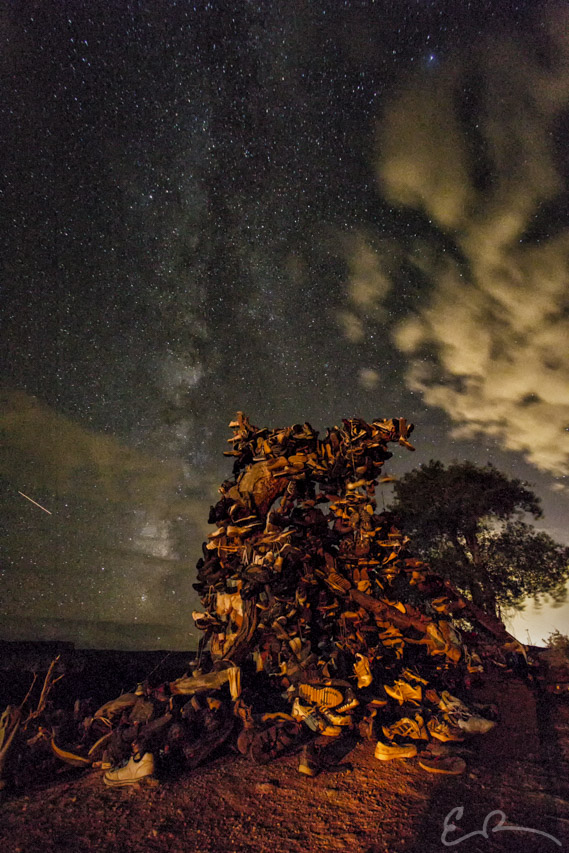 This one makes me sad.
After a long day of hiking through Zion National Park I turned to drive home.  I have driven past this shoe tree each time I was going to or coming from Zion.  I always wanted to stop and try to get a shot like this.  I stayed for almost an hour shooting different angles and getting different light.  The problem trying to capture this shot is the highway that runs through the area immediately behind the camera.  So some shots had bright headlights shining on the tree while others had none at all.  Interestingly this shot, the very first one, is my favorite out of the bunch.  It has great motion in the clouds, a distinguishable Milky Way, and good light on the tree itself.
After this shot I did some digging on this old tree and found the following:
On the tree you will note that most of the shoes are hiking boots. Legend has it that they are hung here in tribute to the Angels Landing hike in Zion National Park – because once you have completed this hair-raising hike you may as well hang up your boots as nothing else exists to compare with it. Over the years several hikers have lost their lives on that trail and there is truly a spectacular view from the top!
A few weeks ago I made another trip to Zion and tried my hardest to locate the old tree but couldn't find it.  This wasn't unusual as I've had problems finding it before.  Wrapping up my trip to Zion and heading home I again looked for it and was convinced that it had been taken down.  I again turned to the internet and found:
The Zion Shoe Tree has been burned and cut down. On Nov. 14, around 7pm, the Springdale Fire Department raced to a reported fire 12 miles west of Zion National Park.
Funny how something so simple, so mundane, can have such an impact once it's gone.  I was truly bummed out when I read the report above.  I was looking forward to going back and capturing more night photos of this awesome spectacle, but that will never happen.