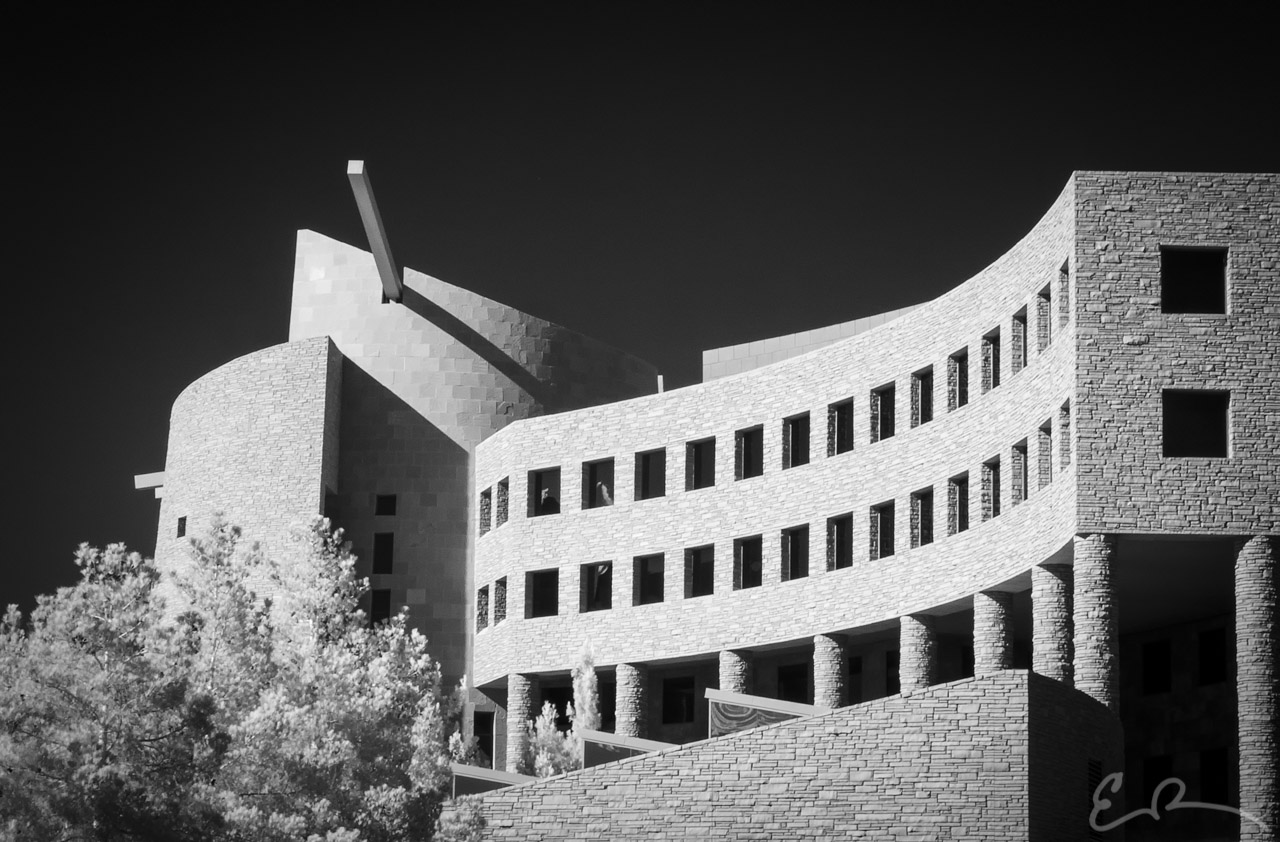 When I got an infrared converted camera I was really excited to put it to use in the harsh sunlight that dominates Las Vegas. All my previous infrared photos were taken with the G2, but I also had a non-converted camera with me as well. This photo came from my first outing dedicated strictly to infrared.
This is the Clark County Government Center located in Las Vegas, NV. It is a striking building and the architecture is very unique for Las Vegas. Here is some background from the County's web-site:
Nestled in the hub of Clark County, the desert-inspired Government Center is one of Southern Nevada's most striking buildings and was voted Best of Las Vegas 2005, Best Non-Hotel Architecture, by the readers of the Las Vegas Review-Journal. Designed by renowned architects Fentress Bradburn and opened in 1995, the Government Center's sandstone exterior reflects Nevada's historical ecology, while images of ancient petroglyphs imbedded in interior and exterior walls pay homage to its cultural heritage. The 385,000-square-foot facility stretches across 38.8 acres of land located on the southeast corner of Grand Central Parkway and Bonneville Avenue. The forms and materials of the building blend seamlessly to tie it to the local environment, particularly Red Rock Canyon, the Valley of Fire, and other natural sandstone formations representative of Clark County.
To get this photo I left work and drove straight to the center. Once there I wandered the front parking lot looking for a good composition and finally captured what you see here.
In post I started with a crop and alignment. Due to the unique architecture I had a difficult time deciding which line to use to square up or level the photo. I decided to use a combination of the antennas on the roof and the column in the bottom right as a guide for squaring up the photo in the frame. Next, I cropped out some of the bottom which had an awning that didn't work with the rest of the scene.
To clean up the roof line I used Photoshop's Spot Healing Brush to remove the antennas and security cameras. I've found that when shooting in infrared, pine cones, which show up stark black, really stand out against the white needles of any evergreen. So I continued with the Spot Healing Brush to remove some of the pine cones in tree to the left.
With all the basics fixed it was time to turn to other, more artistic adjustments. In processing several IR photos it seems that I have my own process pretty down pat. I start by setting a white and black point using a levels adjustment layer. Next I bring in a curves adjustment layer to add in some punchy contrast. Then I add a hue/saturation adjustment layer to completely desaturate the image. It may sound odd to be desaturating an IR image shot with an 850nm filter, but I find on occasion that after the levels and curves adjustments there can be an odd color cast. Adding the layer to desaturate the image gives it the pure black and white that I like in an IR image. Finally I drop in a high pass filter sharpening layer.
Once I completed all my adjustments in Photoshop I sent the image back to Lightroom for some final adjustments; like a clarity adjustment, the vignette, and resizing and export for viewing here.